Wearing your hair too long

Many women associate flowing locks with youth, and short styles—i.e. "mom haircuts "—with maturity. "But as you get older and begin to lose fat in your face, really long, straight hair can actually make you look more drawn," says New York City-based dermatologist and cosmetic surgeon

Melanie Grossman, MD.

Choosing a cut with face-framing layers and lots of body, on the other hand, can help your face appear rounder and more youthful.
Using heavy black eye liner
Dark, dramatic eyes can be tricky to pull off, says Ping, and they tend to be less and less flattering on most women as they age. "Our eyelashes thin out as we get older, and women sometimes try to overcompensate for that with lots of black makeup," she says. "All that does, though, is draw attention to the wrinkles around your eyes." Instead of a black liner, choose a dark brown or grey, she says—and remember that less is more. Skip liquid liners, too, which can be too heavy, and opt for a soft, easy-to-apply pencil.
The skin around your eyes is very sensitive, but it's also the skin women tend to be harshest on, says Dr. Grossman. "We apply all kinds of creams and cosmetics there, but you can do more harm than good if you're too aggressive." Too much rubbing, poking, and prodding can not only damage the skin, she adds, but it can cause red, puffy eyes, as well—not a good look at any age. Always remove eye makeup at the end of the day (sleeping in it can cause irritation and infection), but use a gentle cleanser and a soft towel or cotton swab; avoid scrubbing too hard or using a rough washcloth.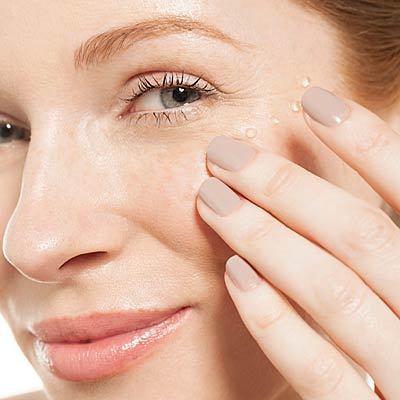 Source:
health.com/health/gallery/0,,20779546_last,00.html